How Do I Change from Date to Date Quickly?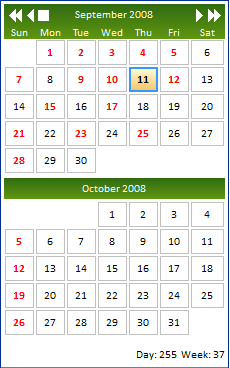 Selecting a day on the Calendar will affect the information displayed for the Appointments and Tasks. To change from day to day within a month, simply click on a different day in the Calendar window.
If you want to change the month you are viewing, there are quite a few options available to you, depending on what you find easiest. At the top of the Calendar is a toolbar with Last Year, Last Month, Today, Next Month, and Next Year buttons.
You can also right-click on the calendar to see more navigation options including a GoTo date option which will allow you to move forward + or - a number of days or go directly to a desired date.
F4 Key jumps to Today's Date
F5 Key jumps back 1 year
F6 Key jumps back 1 month
F7 Key jumps ahead 1 month
F8 Key jumps ahead 1 year
Ctrl + G to jumps ahead or back a variable number of days.
This help article applies to Time & Chaos 7