How Do I Set an Appointment Reminder Alarm?
Time & Chaos has a sophisticated system for monitoring appointment alarms for you. The alarm system is a separate process that runs in the system tray area of your computer (next to the clock). You do NOT NEED to have Time & Chaos running to be notified of upcoming appointments.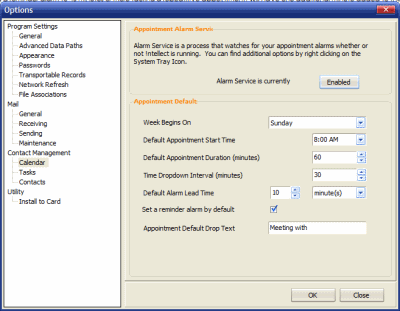 Enabling and Disabling the Alarm Monitoring Process is done from the program options. Select the Tools Menu on the Main Screen, from there select OPTIONS. Within Options select Settings.
The Alarm Services is currently Enabled. Clicking this button will enable/disable alarm services.
When Enabled you should see the alarm monitor icon in the system tray area.
When Alarm Services are enabled any appointment that you have set a reminder on will cause both an popup reminder and an alarm sound at the appropriate time.
You will also find some additional very useful options when you right click on the alarm monitor in the system tray area.
This help article applies to Time & Chaos 7