How Do I Rearrange my Categories?
IMPORTANT: If you use our ChaosHost.com data hosting service, please read the warning at the bottom of this page!
Sort & Shuffle is a great feature. To access this feature select the Category Toolbar Button above the Contact List, Appointment List or Task List. Then Select the Index Card Tab for Sort & Shuffle.
Sort & Shuffle will not only reorder the category labels it will also reorder the saved category values in each record automatically.
To quickly alphabetize your categories merely click the Sort button.

To manually reorder, highlight with you mouse the category that you wish to move then click the UP or DOWN buttons as many times as necessary until the category is in the desired position. Repeat this procedure until your category list appears in the order that you desire.

Once all your categories are reordered to your liking click the Apply button to actually make the changes.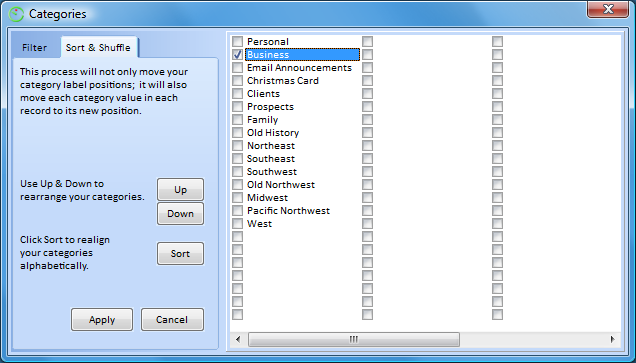 Warning for users of our ChaosHost.com data hosting service:
When you are working by yourself or in a shared environment in one office, the above steps are the complete picture. BUT when you are using ChaosHost.com, you are enabling other users from other locations to use the same database as you. If you use ChaosHost.com, making changes to the categories requires one more step BEFORE your next web sync because when you are ready to sync your copy of the database with the online one, the default setting is to have your local category labels replaced with the labels from ChaosHost.com!
On the File menu of Time & Chaos, under Web Synchronization, is Settings. This screen has an option to have "My customizations overwrite host". If you check this box, then instead of your local edits being replaced, the edits you made to the category labels will be also transferred to ChaosHost. If this box is not checked (and someone on your team told you not to use it) then your other option is to login to ChaosHost.com with your account login name and password, and go to the Options area, where you will find an option to set the category labels for your database. You MUST make the category labels here match the end result of your Sorting and Shuffling before you sync.
This help article applies to Time & Chaos 7