How Do I Add a Custom Field for Special Information that I Want to Keep?
People use Time & Chaos in many different occupations and fields. Since everyone has different needs, uses, and requirements, Time & Chaos provides the flexibility to define some of your own fields to track whatever extra data you want to keep track of.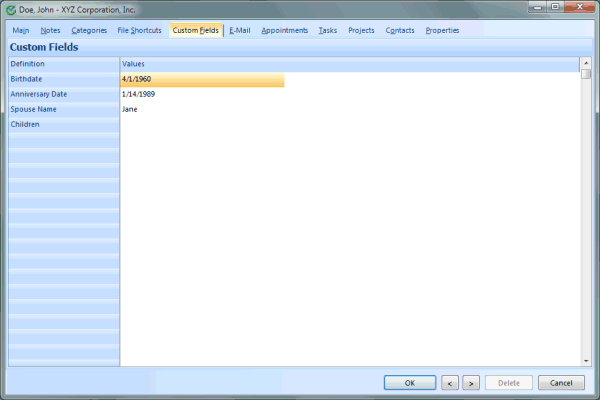 The Custom Fields section contains 20 user-definable fields. These fields allow you to personalize Time & Chaos to your specific needs. Perhaps you want to track customer numbers or their birthdays or the names of their spouses. If so, you can define one of these custom fields to store this type of information. If you put your cursor in the label area to the left of the actual custom field, you can type a new label for that field. This will set it globally, so any labels on this record will also appear on all of your other entries in the Telephone Book.
Custom Fields can be what YOU want them to be.

If you custom field label contains certain "key words" then the field takes on special behaviour. If the field label does not include one of these keywords then the person entering the data can type anything they want in as values.
date: forces the data entry for this field to be a date (see above field Birthdate)
time: forces the data entry for this field to be a time (see Time of last call)
#: forces numeric data only
number: forces numeric data only
type: forces the user to pick from a list of previously entered choices.
This help article applies to Time & Chaos 7