How Do I See my Complete Contact History for a Client?
How often do you get caught off guard by an unexpected telephone call from someone wanting to know the status of a project? Well, no more. The linking feature of Time & Chaos will instantly show you your entire history of both meetings and Task items for a contact.
From the Contact List of the Main Screen, select a record by double clicking on the contact name and the contact entry screen will open. At the top, you'll find tabs for Linked Appointments, Tasks, Projects and Contacts.
All Appointment History is quickly displayed complete with any notes attached to the appointment item. By default these are listing in Date order from newest through oldest.
Linked Task items will display the entire history of all Task Items both completed and pending completion.
Please note there is also a special print option in the Contacts Section for a report called a Contact Profile that will print out the entire contact history typically on 1 or 2 sheets of paper.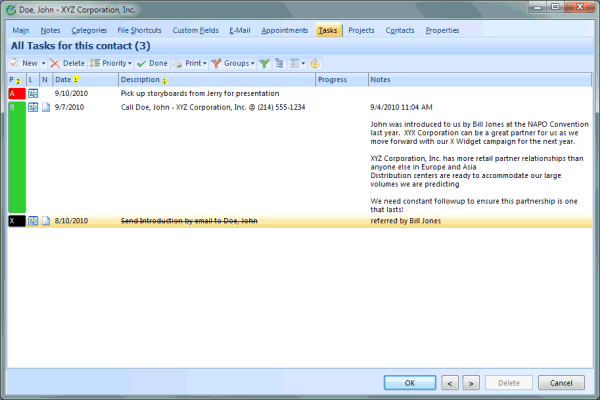 This help article applies to Time & Chaos 7