How Do I Send a Fax?
Available for Windows XP users is an interface to the Microsoft Fax Services. If you have not yet installed Microsoft Fax Services you can do so from Windows Control Panel. Open Add Remove Programs and then Add/Remove Windows Components. There you will check the option for Fax Services. I have seen many Fax Programs over the years and I am actually pretty impressed with Microsoft's service. For what little faxing I actually do anymore It seems to do the job quite well and it's included with XP so there is nothing additional to purchase.
As you know, when you highlight a name in the contact list it displays the address information and telephone numbers.
One single click on the blue underlined hyperlink for Fax:....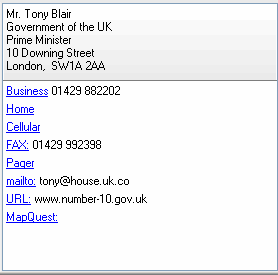 ... takes you to this: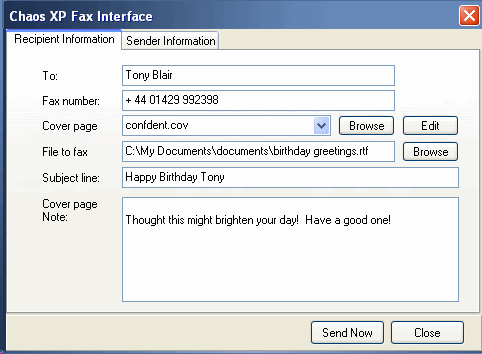 Just attach your comments for the cover-page and attach a document file that you wish to fax.
Notice that you can select and edit your cover-pages right from here. Microsoft seems to install cover pages in various places on my system. So if you don't immediately find the directory containing yours, I would encourage you to spend the 20 seconds and do a search in windows for *.cov. They are quite good and worth looking for.
This help article applies to Time & Chaos 7