Introducing Chaos Data Live - Mobile Edition
Our Chaos Data Live - Mobile Edition is a remake of our normal Chaos Data Live web-based interface to your data, especially designed for the smaller screen sizes of Apple iPhone and Google Android. Each of these devices have a "next-generation" web browser to allow your device to use web sites in ways that were not possible with older Palms/Windows Mobile/Blackberry devices.
You can access Chaos Data Live - Mobile Edition from your device by visiting http://www.chaoshost.com/m/
One very important highlight is the ability to access to your Tasks data, which you may not otherwise be able to use from your mobile device since most don't come with a Task application of their own.
Use your normal login name and password. You can also check the box to save a "cookie" on your device, which will keep you logged in when you return.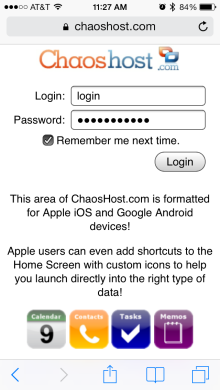 Once you are in, you'll be presented with a Main Screen that allows you to choose any area of your data you would like to look at and work on. Here are some more screen shots if you haven't seen it yet: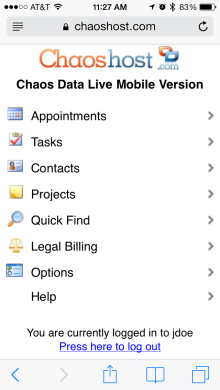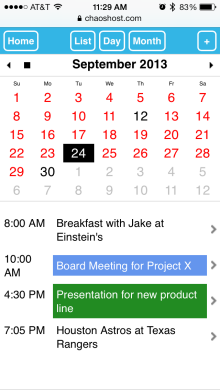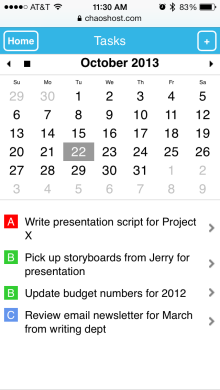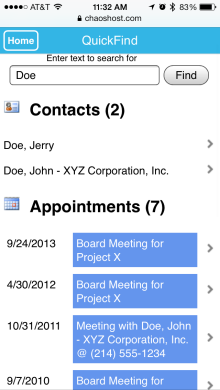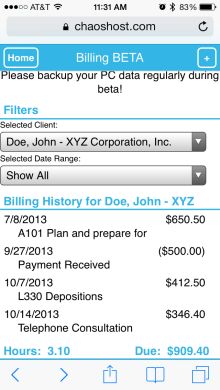 This help article applies to ChaosHost, a cloud database service for users of Chaos Intellect, Time & Chaos, and Chaos Free