Introducing ChaosHost.com
ChaosHost.com keeps you protected by hosting a complete version of your contacts, appointments, tasks and memos databases here on our server.
For the first time, in a way that is affordable and easy-to-use, someone is ready to offer you a way to work together with your partners and co-workers when you aren't even in the same location. That someone is us! We'll take care of the hard stuff so you don't need your entire IT staff to work together and get the job done!

Does this repalce the software I use on my computer?
No! You can (and should) continue to use Time & Chaos, Chaos Intellect and/or Legal Billing on your PC just as always. With ChaosHost.com you've added Cloud service to extend the functionality to share the data you use on your PC with other places your PC cannot already share with. The end result is a Hybrid of PC plus Cloud that is rare to find elsewhere!

How easy is it to use this service?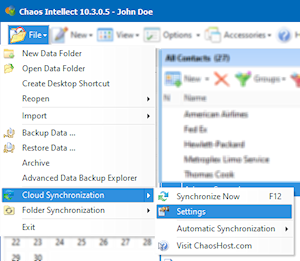 Support for our Chaos data hosting service is already built into version 10 of our Time & Chaos, Chaos Intellect and Legal Billing software products.
Go to the File menu and look for the option for Cloud Synchronization.
The first time you use it, go to Settings to enter your login name and password. After that you'll use Synchronize Now to upload your data to this site and to download any changes made elsewhere back to your computer!

What do I get out of using ChaosHost.com?
Use the same data at home and at work without remembering to bring a copy home with you.

Have other team members share your database and let everyone make updates that are passed along to all users.

Keep multiple offices in sync with new and edited items getting passed back and forth through our service.

Sync your smart phone with ChaosHost.com to load the contacts and calendar on the device in your pocket.
PLUS, you'll have access to ChaosHost.com's Chaos Data Live web version to use your data from locations where you don't have our full software installed!
This help article applies to ChaosHost, a cloud database service for users of Chaos Intellect, Time & Chaos, and Chaos Free