How Do I Attach Letters and Spreadsheets to a Contact's Record?
Attached Files allow you to link documents, spreadsheets, pictures, or anything else on your computer to a particular Contact record. In the Contact List entry/edit screen, you can click on the index card tab for File Shortcuts.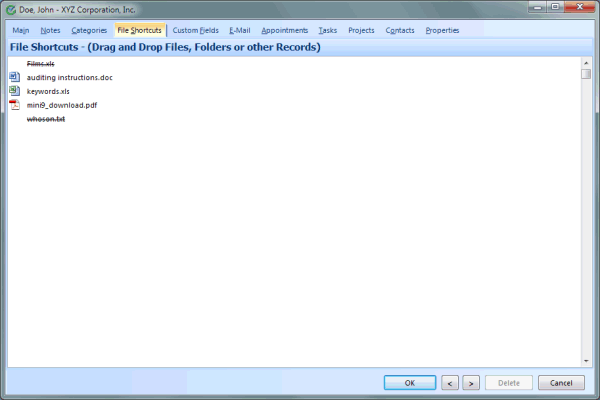 Right click in this window to attach a new file. Once attached, an icon for it will appear. You can also drag a file itself and drop it in this window (if you can see both at the same time on your screen).
Once items are listed here, you can double-click on any file and Intellect will launch the necessary program to open the file you attached! The attached file list can also be viewed as a page of icons for your documents or as a detailed list.
Items listed with the strikeout font cannot be located. The file is unavailable or has been moved or deleted independently of Intellect.
Attach links to documents related to the contact
Right Click for Pop up Menu or just drag and drop from Windows Explorer or My Computer
tip .. if you have many documents (greater than 20) that you would like to have short-cuts to you might consider linking to a folder in windows instead. To link to a folder, open windows explorer (or my computer) and drag the folder into this window.
This help article applies to Intellect 3