Adding Images and Font changes to your Signatures
You do not need to keep your signatures as just plain text. The signature area supports HTML code. If you have know HTML, you can simply type the code directly into the signature tab of the account settings. But Intellect also provides a method for doing this without knowing any HTML programming.
To create a signature with images and changes to the font, first create a new email message. Click on the New Mail Message button from the Mail section toolbar.
Somewhere in the body of this new message, type in your desired signature. You can insert images by clicking on the Insert menu and choosing Insert Image. These images can exist locally or on the web. You can also modify the font (color, style, size, etc.) by using the various font settings under the Format menu or directly from the font toolbar.
The key here, once you have the signature setup exactly as you would like, is to select this block of text containing the signature in its entirety (including any images) and then click on Edit and Copy as HTML.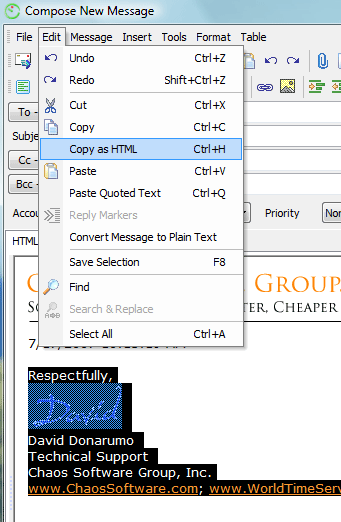 This will copy the code behind the signature you created. All this means is that you now go into your account settings (click on Tools and Mail Accounts and double click your account's icon) and go to the Signature tab. There, delete any plain text if needed, make sure the cursor is in the signature area, and use CTRL-V to paste (or right click in that area and choose Paste).
This help article applies to Intellect 3