How Do I Add my First Contact?
In the Contact List module click the toolbar button for NEW CONTACT. This will bring up a new contact dialog for you to enter information.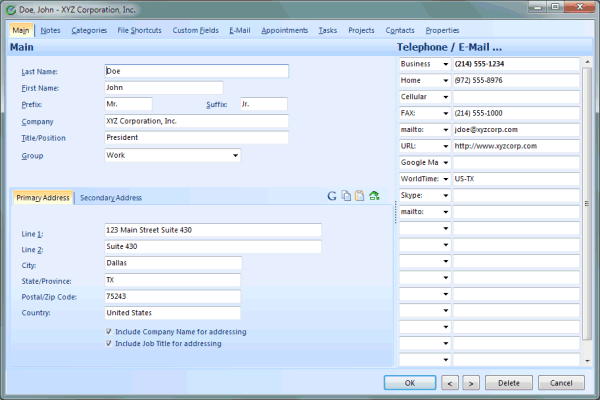 Fill-in the Last Name, First Name and Company (if appropriate) of someone you know.
Provide as many (or as few) phone numbers as you feel are appropriate.
Click the OK button at the bottom. This dialog will close and you new contact will be displayed on the main screen Contact List.
Once a contact is displayed in the contact list of the main screen you can double click on it anytime to return to this new contact dialog screen to view and edit.
A couple of tips on entering data ....
Typical Prefix fields: Mr. Ms. Miss Dr.
Typical Suffix fields: Jr. Sr. III, DDS
Group .... Friends, Relatives, Vendors, Customers
the Phone Numbers ...
mailto: is where you would type someone's e-mail address
url: is for a web page address, if they have one.
mapquest: nothing is actually required in this field, so just leave it blank. (It will actually grab the primary address data and automatically pass it along to the mapquest web-site)
Skype: is for either a Skype user name you wish to contact directly or a voice number you want to call with SkypeOut, (including the country code like +1 or +44)
This help article applies to Intellect 3