Searching in Intellect 3
Once you have put data into a program like ours, one of the next questions can be how to find it again. Intellect 3 has many ways to look up your data and show you what you need quickly.
Searching for data related to a contact
If you need to find past meetings with a contact or past phone calls, the quickest way to this information is by simply opening up the contact details for this person. When you double-click on a Contact, at the top are tabs for Linked E-mail, Appointments, Tasks, and Memos. Each of these tabs does a quick search for the specific type of data that is linked to this particular contact.
Searching for something by a phrase or phone number
If you have a phrase or a phone number, but you don't remember who or what it belongs to, a Quick Find might be the best way to locate the record you are looking for. Look at the top right corner of the main screen for Quick Find. Simply paste in or type in your text to find and click the magnifying glass button.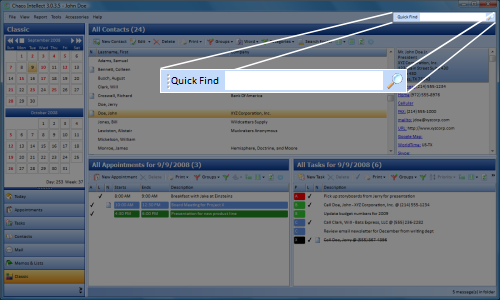 This search scans ALL databases for your phrase, so it will return back to you with a list of any Contacts, Appointments, Tasks, Memos, or Mail Items that contain the text you are looking for.
Here is an example of what the Quick Find results look like: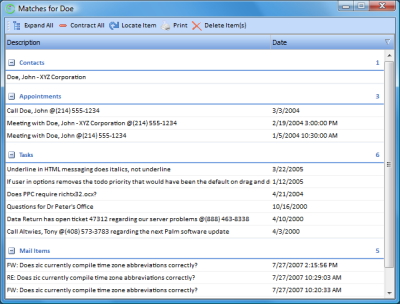 As a Quick Find, this type of search is suited for quick lookups and is not designed to be a complicated search, nor is it something you would print out a hard-copy of. If you did need something more powerful or that you could print, you need the next type of search...
Searching with the Report screen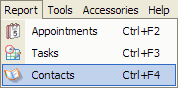 At the top of the main screen of the program, to the right of File is Report. Report can be used with Appointments, Tasks and Contacts, which will be the first thing you get to pick. (Users of older versions of our software might recognize this screen as the one the old "magnifying glass" button would take you to.)
Using the Report screen has two distinct advantages over the Quick Find. First, you can have very detailed search criteria and search for multiple things at once. Second, you can select the columns (or fields) you want to see on your results. The columns you pick can also impact what prints or is exported, if desired.
The features of the Report area are quite extensive, but you can learn all about it in the Help section of Chaos Intellect. The Report screen has its own heading on the table of contents on the left side of the help files.
Searching within Email Messages
One final way to search with Intellect pertains just to email messages. If you are looking for information that you know was mentioned in an email message body, it is possible to scan your complete mailbox including subfolders to look for a phrase.

On the Mail area's toolbar, to the right of the Delete button, look for a button that has a folder with a magnifying glass. This button will allow you to search within messages and can also be accessed with CTRL-ALT-S.
This help article applies to Intellect 3