The Main Screen
Intellect comprehensively integrates our award winning contact management program Time & Chaos with a powerful business email client to create a seamless and very powerful software suite.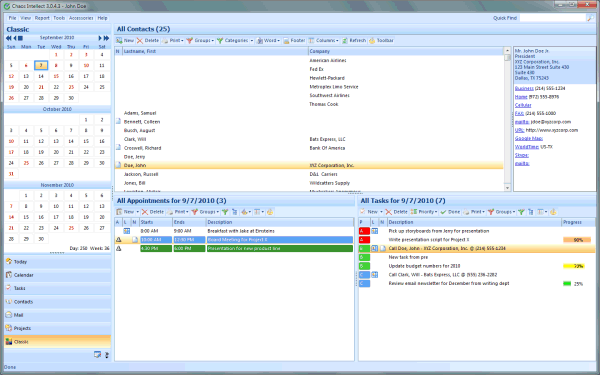 The Navigation Tabs (in lower left corner of the screen)
The Navigation Tabs are designed to provide direct and rapid access to the various modules that make up Intellect. You can select the module of your choice by clicking on the corresponding tab.
This area can be re-sized vertically by sliding the splitter bar with your mouse (shown here in darker blue immediately above the tabs)
Contact Names and events may be dropped onto these tabs to quickly schedule linked appointments, tasks and memos
You can change the tab automatically chosen at startup by going to Tools and Options
Quick Find
In a program with as much different pieces of information as Intellect offers, you need an easy way to find things with hunting on your own. Look to the top right corner of the screen and you'll see the Quick Find area where you can look for any phrase and get the matches returned back to you from all the different areas of this data set!


The Today Module
The Today Module is intended to provide at a glance your daily briefing. By default it will list your upcoming appointments for the next 6 days, all tasks that are currently due and a status of your mail boxes. It is highly customizable in it's appearance though our Theme Customization feature. Although it's not intended for heavy data entry both the Appointments and Tasks listed may be single clicked on with your mouse to view or edit it's details, mark items as done (complete) or delete. The Navigation Pane (above the navigation tabs) contains short-cuts to our web-site support page, links to your Internet Explorer LINKS, as well as quick links to reopen other sets of Intellect data.
Please note (before you send in the "suggestion"): Although we have no bias on which web browser you choose to use, we have chosen to integrate with Microsoft's Internet Explorer for the sole reason that it is already included with windows. Other programs such as Firefox, Google Chrome, and Opera are all fine products that we have great respect for, however, we don't want to force our customers into an extra download if we don't have to.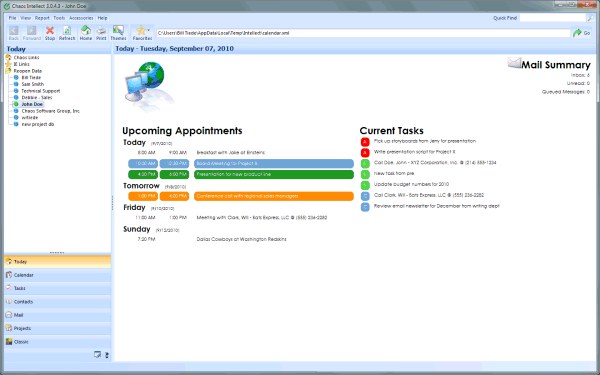 The Contact Module
Think of it as you would a telephone book. It provides an extensive view into your list of contacts. Your contacts can be sorted spontaneously by either Last Name or Company by simply clicking on the corresponding column headings. Selecting any single contact name will display their address, telephone numbers and other contact points. Double Clicking (or selecting the enter key) on any single contact will allow very comprehensive viewing and editing of the data. There is so many exciting things that you can do but we'll have to get to those later in this help file under The Contact List Section.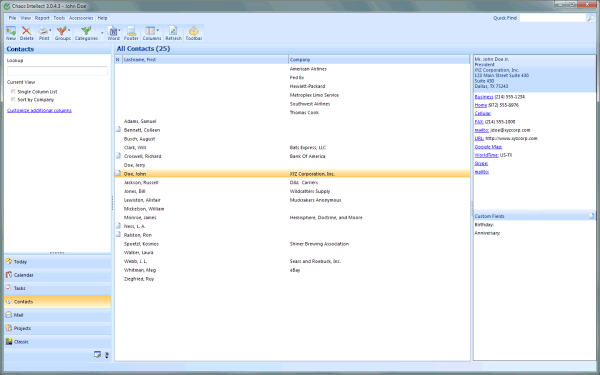 The Appointment Module
The Appointments Window provides a place to schedule the events and meetings you have each day. As you move from day to day, your current schedule is always visible for you. You can also track important days such as Birthdays, Holidays, and Anniversaries.
The Appointment Window provides an extensive view into your collection of time commitments. It displays all commitments scheduled for the selected day, including the times and descriptions.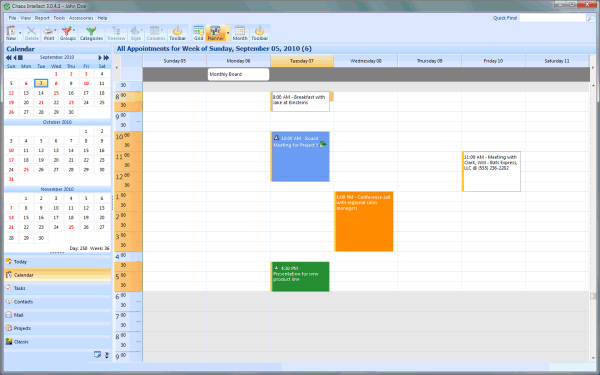 The Task Module
The Task area provides a way for you to list the tasks (to-do items) that must be completed today, to prioritize them, and then mark them as Done when you have completed them. A task is anything that must be done, from placing a telephone call, preparing a report or purchasing a gift for a friend.
A special feature of the Task List is that if you do not finish a task today, it will automatically display tomorrow as well. In fact, it will continue to display until you either complete it or delete it! Even if you shouldn't put off until tomorrow what you can do today, Intellect will still help to remind you of all your Tasks. We like to call it "just in time worrying." The Priority Level (P) keeps more important items at the top of the list and is displayed along with the Description for each current entry.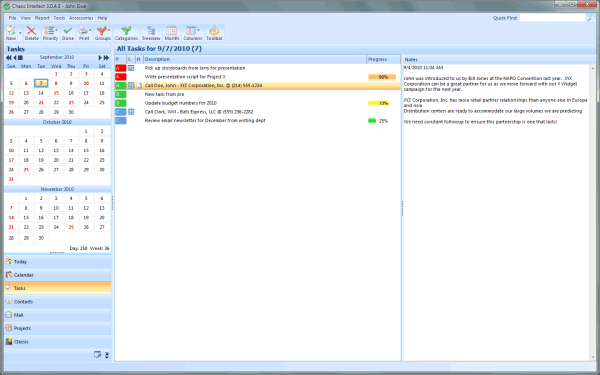 The Projects Module
This is a special area to create your own custom database of information that doesn't fit elsewhere. Use it for project tracking, sales opportunites or even a list of your favorite wines. There are built-in templates for popular uses or customize it yourself.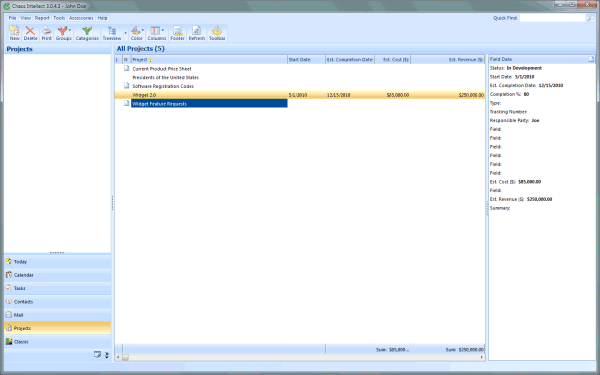 The Mail Module
A unified in-box for all of your email. It has support for most everything you have come to expect from a high quality email client. Multiple accounts, mail-merging, pop3, smtp, html, ssl, imap, live server headers .... but most importantly, a message storage system that is better.
The Mail Module organizes e-mail messages and information into a collection of folders called a mailbox. Within a mailbox you may have multiple e-mail accounts. You might create multiple mailboxes to allow different users to share the same computer, or you might do as we do here in our office and create personal mailboxes for our own needs, and a Support In-box on our LAN that a few different users can examine as necessary.
A mailbox is really a set of default folders (directories) that actually exist on your hard disk into which we will organize your accounts, messages, addresses, and other files. You can add folders or customize a mailbox as needed. The Mailbox view on the primary screen through which you will gain access to your folders and messages. Each message is actually kept as a separate file in the original format as it was received by the server. We do this for a whole bunch of great reasons the least of which is prevention against corruption. If you have ever 'lost' a 50 MB mailbox in one of our competitors products you know what we mean.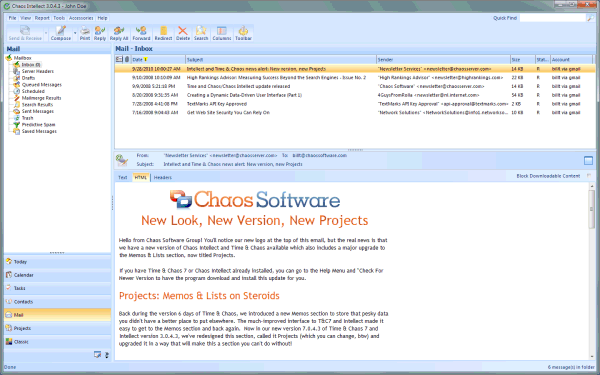 The Classic Module
Throughout the years the cornerstone of Chaos Software has been the Classic View. At one quick glance our users are able to view contacts, tasks and calendar all on one screen. There is no other contact management software on the market today that provides that same capability.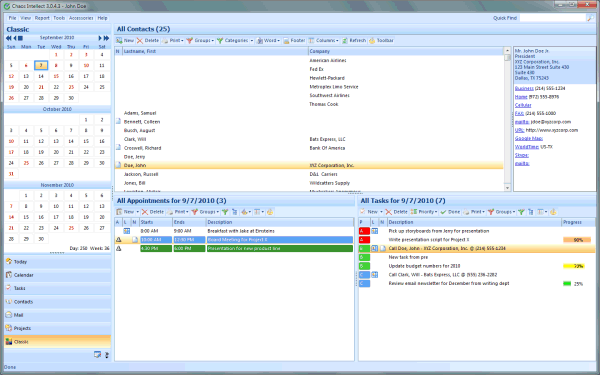 This help article applies to Intellect 3