Projects: An Introduction
Note: Projects was first added in version 3.0.4.3
This is a special area to create your own custom database of information that doesn't fit elsewhere. Use it for project tracking, sales opportunities or even a list of your favorite wines. There are built-in templates for popular uses or customize it yourself.
Users of older versions of our software will find any data previously entered into our Memos & Lists section has been copied and converted to this new section.
Projects are your own custom database. You control the custom field labels. You control the columns that display. You choose whether numeric columns have totals at the bottom. You can even rename this section completely!
Jumpstart your customizing by pick one of our built in templates (Right-click and choose Customize Module). Alternate choices include Sales (for Opportunity tracking), Real Estate, Wine Cellar, and Memos (if you used the older version and want to turn back the clock a bit).
You can create new appointment and task reminders from a Projects or can linked items from the main screen. If you have a task you made elsewhere in our program that you want to link, you can drag it and hover over the Projects button in the lower left to make your Project list appear above, then drop it on the specific Project you wish to link it to.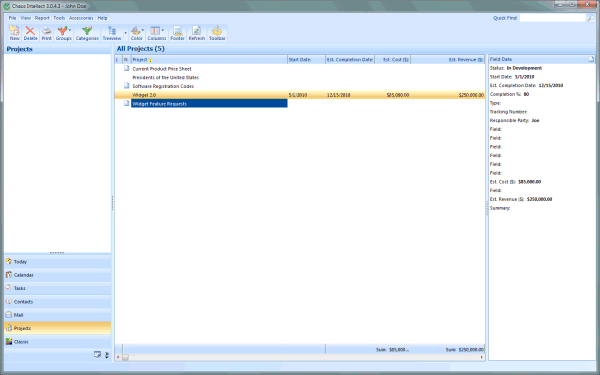 This help article applies to Intellect 3