Understanding the Report Screen
The Report Engine within Intellect does a lot! The more you get to know your way around this tool, I suspect the more amazed you will become as to what is possible here in both searching and manipulating your data.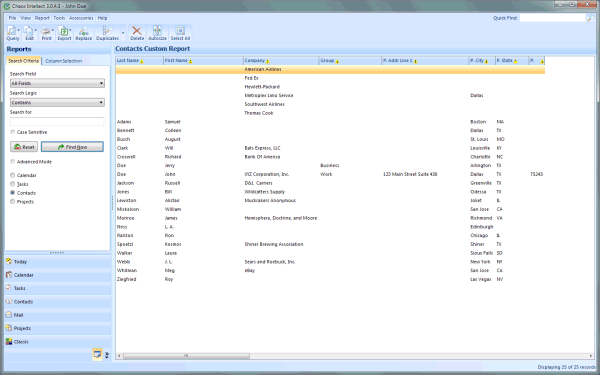 Using the Report screen in Intellect will allow you to search for particular records, to create custom reports, to mail merge, to edit groups of records, or " filter" your phone book on anything you can search for. Wow! With that list of features, it will be worth the effort to understand the Report screen and learn how to make it work for you. You can get to the Report screen in a few different ways. The easiest is to look for the Report Menu at the top of the Main Screen of the Program or you can use the right button on your mouse to right-click in any window to see a pop-up menu of options including Report.
As you look at the Search and Report Screen, it can really be broken down into two main areas. The left side of the screen is the Search area that allows you to specify what you are looking for, what fields you want to see and to perform the search.
The right part is the Report area. Many columns are displayed, each set to a specific field of information. Once you have completed a search, your results will show up much like a spreadsheet, with each column showing a field and each row being a different record on your results.
Quick Start Tips
Click the Find Now button. It will find every record that you have entered and display the default columns of information. When there is no search criteria specified, it finds everything.
Click on any of the column headers will sort your results by that column. The First Click should be a Ascending Sort from A-Z or 1-1000 while a second click on the same column will sort in reverse or descending order Z-A or 1000-1.
To Change the columns that you are looking at, look for the Column Selection tab at the top left. Put a check mark next to any column that you are interested in and it will immediately become visible and display the data.
This help article applies to Intellect 3