In this issue...
1) Vista support for Time & Chaos 7 and Chaos !ntellect and
2) a brief follow-up on CompanionLink for Time & Chaos
---
Hello from Chaos Software Group! I'm sure you've seen that Microsoft has released both a new operating system and a new version of Office. While you might not be upgrading today, you'll be happy to learn that...
We actually like Microsoft Windows (despite what the fruit computer people might lead you to believe on tv) and we are always interested in keeping up with the latest technology.
Our current versions of Chaos !ntellect and Time & Chaos 7 include the changes and updates necessary to ensure compatibility with the new Microsoft Vista Operating System!
Vista support is not the only reason to upgrade, though. Here is a quick review of some of the other changes in Chaos !ntellect and Time & Chaos 7...
A classic view a la previous versions of Time & Chaos is still around
!ntellect adds an integrated email client - not only for sending and receiving mail, but for looking at any contact's linked mail history, too.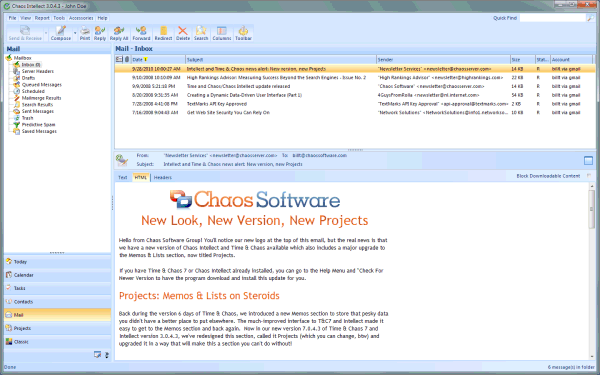 !ntellect and T&C 7 also offer some new ways of looking at your data. Check out these appointment views, with Monthly and Weekly Calendars instead of one day at a time...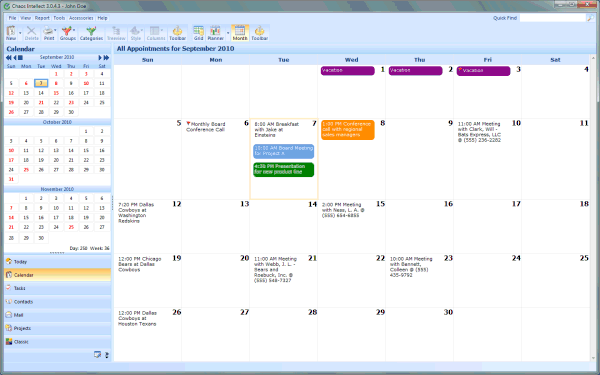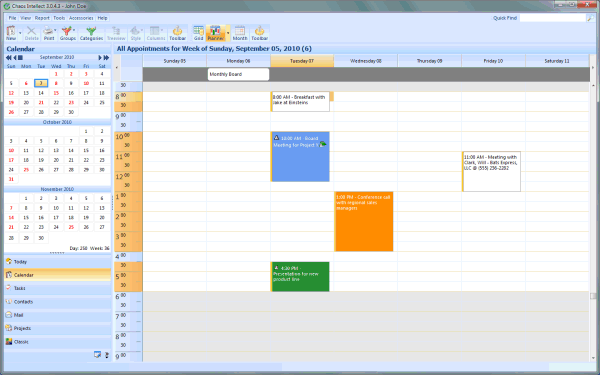 Bottom line? If you are already using Time & Chaos 7 or Chaos Intellect, you are Vista-ready!
If you still have an older version of our software, keep in mind that when you upgrade to Vista or get a new computer with Vista loaded on it, you will need to upgrade our software, too. (And if you own version 6 of Time & Chaos, there is still time to upgrade to one of these new versions at a considerable discount!)
Trial versions, product updates and upgrade purchases can all be taken care of at our web site at http://www.chaossoftware.com/
Our last email introduced you to the new CompanionLink for Time & Chaos software, which is sold and supported by CompanionLink Software, Inc. via their website.
CompanionLink allows our Chaos Databases to be synchronized with Palm, Windows Mobile (Pocket PC and Smartphones) and BlackBerry PDA handheld devices. In the weeks since it was released, many of you have already tried it out. Here are some of the responses received so far:
"An excellent tool . . . no problems or glitches!"
Claude W. Pratte
Family Life Network
"...I have been happy with the product - it is easy to use and functions pretty much as I expected."
John Sobkowicz, Ph.D
Thurber Engineering
"...I am happy to finally be able to use my Pocket PC."
Dave Davis
Davis Piano
"The product is EXACTLY what I have been waiting for..."
Louis Papaleo
Papaleo & Co.
"...very fast at syncing and has been reliable...the ability to sync notes is very useful."
Steve Walker
"Works like a charm, I think better than chaos sync for palm which I used for several years. Keep up the good work."
Mike Riffle
Sounds pretty impressive! We are happy for the guys and CompanionLink to receive this warm reception and we are glad to have them on board, both to keep up with new devices and to keep working on innovative ways to take advantage of our portable devices!
We are appreciative of your business and support!
Best regards,
The Team at Chaos Software Group, Inc.