Sharing Data - Using an iPhone with Time & Chaos
There are a few great ways to share the data you use in Time & Chaos with your iPhone or iPod Touch device.
1) Sync Over-The-Air with ChaosHost.com for Contacts and Calendar items
iPhone and iPod Touch both feature built-in applications for Contacts and Calendar data. The problem, of course, is how to get the data you have been putting into our software on your PC added to your device.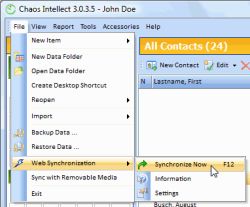 The best solution is to use an add-on service we offer to our users called Chaos Data Hosting. This will require an account on our ChaosHost server, where we can host a working copy of your Contacts, Appointment Calendar, Tasks and Memos databases. This data on ChaosHost.com can be synchronized with Chaos products using an option you will find is already built-in, on the File Menu, under Web Synchronization.
The reason a ChaosHost account is so useful for iPhone and iPod Touch owners is that your device also has a built-in way to sync with ChaosHost, just like our software does. If you have at least version 2.x of Apple's firmware installed on your device, you can add ChaosHost to your list of Accounts and the Contacts and Appointments you have stored on ChaosHost will be sent directly to your device through the Internet. You won't have to connect your device to a computer at all to get this data!
Your iPhone and iPod touch is also able to keep synchronizing over the air as you use the Calendar or Contacts on your iPhone, so changes you make while mobile will get copied back to ChaosHost.com. When you return back to your computer where Time & Chaos is installed, you can do a Web Synchronization to pull those changes down to our software on your PC, too!
If you don't already use ChaosHost.com, our sales department can set you up with a free, fully functional, 30 day trial so you can see the sync process first hand before purchasing a ChaosHost subscription.
Once your ChaosHost account is up and running, check out the full details on using and configuring this option in the ChaosHost help files.

2) ChaosHost.com's Mobile Edition of Chaos Data Live
One other benefit of a ChaosHost account is that in addition to hosting and synchronizing data, we also have a web application that allows you to work with your data through a web browser when you are away from your PC.
Either as a supplement to doing the Over-The-Air Sync or as a separate option, ChaosHost offers a special mobile version of the Chaos Data Live web application that is designed for use on iPhone's Safari browser.
Via your iPhone's or iPod Touch's Safari browser, you can see your data, make changes and additions, from anywhere you are. When you get back to your PC, you can use the Web Synchronization option in Time & Chaos to make sure your changes made online are transferred back down to your computer.
This web app is especially useful because it allows you to work with your Tasks and Memos data, which otherwise would not be available to your device, since it does not have built-in applications for these data types.
We even have specialized desktop icons so you can add these web apps to your iPhone's home page, if you choose to.





The special mobile version of ChaosHost formatted for iPhone and iPod Touch can be found at https://www.chaoshost.com/m/

3) Sync with Outlook and iTunes
If, for whatever reason, we can't interest you in an account at ChaosHost.com, one final option takes advantage of the relationship between iTunes and Microsoft Outlook.
Apple has built-in support in iTunes to grab Contact and Calendar data from the Microsoft Outlook program installed on the same PC as iTunes.
If you have both iTunes and Microsoft Outlook, you can purchase an add-on tool for Intellect called ChaosSync For Outlook. Once installed, this tool will show up on the Accessories menu at the top of Time & Chaos. It can be configured to Overwrite Outlook, to Synchronize with Outlook, or to have Outlook Overwrite Chaos. Whenever you use this tool, it will make the needed and requested changes to keep our data and Outlook's data up-to-date, so when your iPhone connect to iTunes, iTunes gets the data from Outlook (which it in turn, shares with Intellect through this add-on tool).
Details on ChaosSync For Outlook can be found on our company web site at:
https://www.chaossoftware.com/
This help article applies to Time & Chaos 7