TimeSync for Chaos Data
Discontinued! Synchronize Chaos Data from multiple locations or even sync through the Internet using the TimeSync utility for Chaos Intellect 3 and Time & Chaos 5/6/7 users.
Note: Time & Chaos Web Edition also features the ability to keep multiple computers synchronized plus an online interface to your data through a web browser. Time & Chaos Web Edition is a service you subscribe to rather than software you purchase. Click here for more details on Time & Chaos Web Edition to help you decide if TimeSync or the T&C Web Edition is a better fit for your needs!

Features and Benefits

TimeSync is a synchronization tool. This means that it is capable of taking two separate databases and combining them so that you have one complete and whole database with all the current information from both sources. With TimeSync, you can . . .
Quickly synchronize your Chaos Data via the Internet, using FTP or an FTP alternative such as X:drive or i-drive.
Quickly synchronize your Chaos Data on your desktop with your laptop.
Quickly synchronize a database on your PC with a database backup diskette from another computer.
Selectively synchronize just your Appointments, Phonebook or To Do List.
View details of what will happen before actually performing the sync.
View a self maintaining list of frequently used databases for easy synchronization control.
One common group who use this utility are on-the-go professionals who travel with their Chaos Data on a laptop while their assistant is back at the home office using a copy of the database, too. The TimeSync utility allows you to easily update both databases to include all of the new additions and edits made by either person in our software.

Purchase
The TimeSync utility is $19.95 and is available 24/7 through our secure online store. Order now and we will immediately provide you the required password necessary to install TimeSync on your PC.

Download
If you have already ordered this utility and have your password ready, you can download TimeSync.

Screen Shots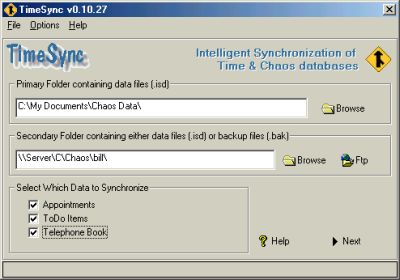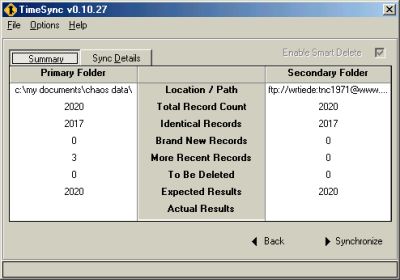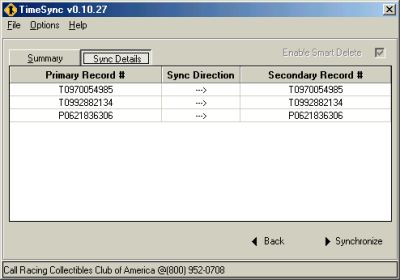 Copyright © 2011 Chaos Software Group, Inc. - All Rights Reserved
[ Home ] [ Products and Downloads ] [ Purchase ] [ Mailing List ] [ Tech Support ] [ Contact Us ]