Introduction to Time & Chaos 5
In 1992, Time and Chaos made it's first appearance as try before you buy software. From then until now, it has received awards, accolades and acclaim from the reviewers and from over half of a million users who have registered the product.
Easy-to-use "one screen" interface
When someone looks at the main screen of Time & Chaos 5, their first impressions is of one of the "hallmarks" of Time and Chaos: Everything is visible on one screen! Your appointment schedule and to do list for today along with a calendar for the month can all be seen at the same time as your telephone book.
Creating appointments and to do's are as easy as dragging a name from your telephone book and dropping it into the appropriate area. You are also given many visual cues regarding your data, like whether it has a note attached or whether it is linked to a phone book record.
Easy-to-share databases
If you use Time & Chaos on a network, any database you have can be used by multiple people on multiple computers, even at the same time! There is no expensive server software or hardware to purchase, either --- it's all built in to the client software.
If everyone wants to share the same group database, you only have to share the folder in Windows where you keep the data, and then in Time & Chaos use the File, Open Data Folder option to point everyone to the same path -- That's it! If you have more than one database, T&C can help with that, too, with our extensive Network and Workgroup features.
Network and workgroup features
When using Time & Chaos in your business, you may have need to work with others on your network as part of a workgroup. Whether you are set up with Peer-To-Peer Networking or Client-Server or even just a stand-alone user wishing to work with multiple data folders, Time & Chaos has many features built in for your needs.
A User List is available to show you all the other Time & Chaos users you are in a workgroup with. If you want to send someone an item like an appointment, just highlight their icon, and drag the appointment down to this list. If you want to change to their data folder, just double-click on their icon.
If you are going to schedule an appointment for a group, you may want to use the Time Bar feature to take a look at the availability of everyone else. Just open the Time Bar, and drag names from your user list to this new window to add their schedules to the graph.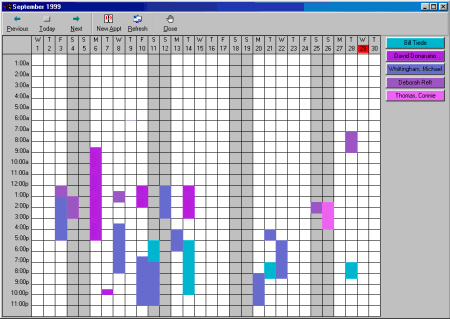 Making contact with the address book
Time & Chaos has the most powerful telephone book in its class because it is much more than just a simple address book and phone dialer. In addition to placing voice calls through your TAPI dialer, Time & Chaos will also allow you to launch faxes and emails with a MAPI mail program like Microsoft Exchange. You can also store WWW addresses and have your default Web browser take you right to that site or use your browser's email program such as Outlook Express or Eudora.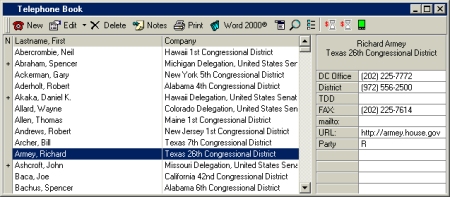 As you will notice from the screen shot above, Time & Chaos will let you make buttons for FAX:, mailto: (Internet mail through browser), URL: (Web sites), and others. You can then use these buttons to launch these features using the programs you already have in Windows.
Different views for different perspectives
Need a new perspective on your data? Click on a column heading like Company, and your data automatically resorts itself. Need to concentrate on a particular area? Use the powerful Screen Layouts feature under the view menu to rearrange the entire screen to focus on your needs.
For example, under View, Screen Layouts, is a choice for a 12 Month Planner. This view gives you a better perspective on your long-term scheduling and planning. It even lets you reschedule items by simply dragging and dropping them to another date.
Integration with other applications
There are many other applications you probably use everyday that Time and Chaos will work with to help you get the job done.
Microsoft Word XP, 2000, 97 and 95 and Corel WordPerfect 7 and newer - for mail merges (letters, mailing labels, and envelopes)
Web Browsers (Microsoft Internet Explorer and Netscape Navigator) - for Web Browsing and email
TAPI Dialers (including Microsoft Phone Dialer) - for voice communications
Microsoft Excel - for additional report formatting and functions
WinFax 8.0 and newer - for fax transmissions
Final thoughts
There are many more features that we could describe or functions we could show you, but this is, after all, only an introduction to the program. Time & Chaos is still available as try before you buy software, just as it was when we started in 1992. We feel Time & Chaos is one of the most powerful personal productivity tools you can find and we would love for you to take it for a test run.
Once you have this on your own computer you will find many other features like a powerful search and report engine, great printing, transportable records and more. We hope you like what you see and that it helps you manage your chaos!

Copyright © 2011 Chaos Software Group, Inc. - All Rights Reserved
[ Home ] [ Products and Downloads ] [ Purchase ] [ Mailing List ] [ Tech Support ] [ Contact Us ]